---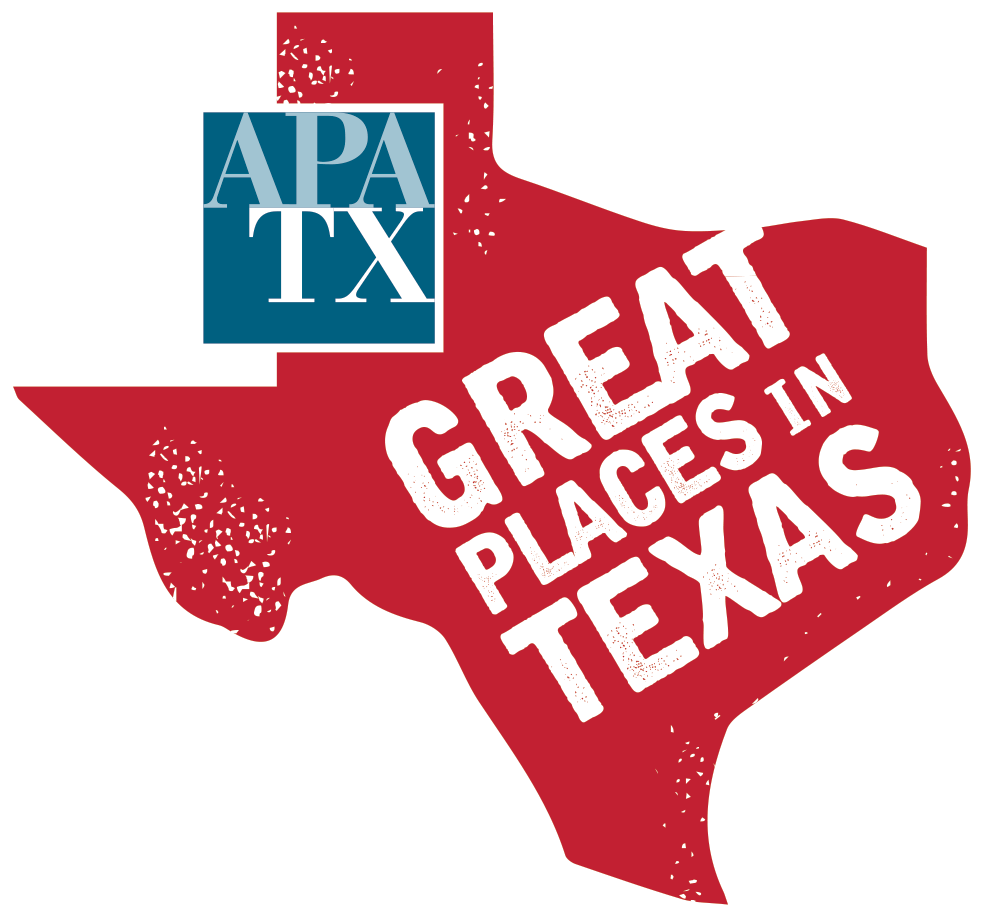 Texas is Great, Y'all
We all have places in Texas dear to our heart. That's why we have created the Great Places in Texas Program, our state's own rendition of the American Planning Association's Great Places in America program.
Great Places in Texas recognizes the Lone Star's Great Places – neighborhoods, streets, and public spaces – and celebrates how planning has played a vital role where we live, work, and play. The program promotes and recognizes great places while celebrating stories of exemplary planning that have resulted in stronger and healthier communities. 
The Call for Applications for the 2020 Great Places in Texas is Now Open!
                                  Deadline: Friday, January 10, 2020 at 11:59pm
---


Congratulations 2019 Great Places in Texas!
Watch the BIG announcement of the 2019 Great Places in Texas from Chapter President Doug McDonald and Producer and Host of The Daytripper Chet Garner. Filmed in Downtown Bryan, a 2018 Great Place in Texas.

---
These places illustrate most effectively what it means to be a "great" place, including design, functionality, sustainability, character, quality, and community participation.
---

Great Places in Texas 2019 Selection Committee
Heather Nick, AICP - City of Tyler (previous GPIT designee, Section/State Board member)
Louis Cutaia, AICP - Walter P. Moore - Houston (Section Board Member)
Melissa Oden - Past President of Texas Public Health Association (Partner Organization)
Tim May - ASLA Trustee (Partner Organization)
Emily Koller, AICP - Texas Historical Commission (Partner Organization)
Jon James, AICP - City of San Angelo (previous GPIT designee, Section Board member)
Clayton Husband, AICP - City of North Richland Hills (previous GPIT designee)
Renissa Garza, AICP - City of Corpus Christi (Section Board Member)
Great Places in Texas was developed in 2016 with the first places recognized in 2017.
Telling Your Story
The Chapter is excited to announce the partnership with Chet Garner, creator, executive producer, writer, editor and host of "The Daytripper" to assist in increasing the exposure of Great Places in Texas - and to tell the planning story. The Daytripper is a 7-time Lone Star Emmy Award winning travel show airing on PBS and highlights the culture, outdoors and food of a single tourist destination or area. Chet was a keynote speaker fo the Texas Chapter Conference in 2017. CLICK HERE to watch Chet's presentation at the Chapter conference.
---