Tales from a Texas Planning Legend: Been to the Dallas Esplanade lately?


Being called a "Texas Planning Legend" means I've been around for awhile. So I could start this piece by saying 'a long time ago in a galaxy far, far away …' and you'd be right to wonder whether I was there.  But this story actually takes place in a community right here in Texas.  And a long time ago is less than 25 years, although for many of us that is very long ago indeed.  I'd like to share this story with you since I think it says a lot about vision, tactics and timing.
In 1994, the Dallas City Council unanimously adopted "The Dallas Plan" as a strategic and comprehensive vision and action plan for the community.  At the time, I was the Executive Director of the non-profit organization of the same name.  We worked with Dallas elected and appointed officials, community members, professional staff, business leaders and civic organization to first create and then implement this plan.
One of the six Strategic Initiatives in The Dallas Plan was called "Center City" and it focused on expanding the vision for revitalization beyond the traditional downtown to encompass the neighborhoods and business areas just outside the freeways ringing downtown.
The Dallas Plan organization partnered with the City of Dallas on plan implementation.  One day in 1996, I was approached by a senior member of the Dallas City staff.  He had an idea he wanted to discuss and hoped The Dallas Plan might help advocate.  He thought there should be a park covering over the Woodall Rodgers Freeway between the Arts District and Uptown.  He believed this would help connect these parts of the Center City and would encourage people to live, work and invest here.
It seemed like a good idea and was certainly very compatible with the adopted plan's vision and policies.  In fact, one of our Action Items for 1996 addressed 'Center City Parks, Linkages and Gateways' and included a target of identifying potential new linkages.  I knew about Freeway Park in Seattle, built in the 1960's and designed by Lawrence Halprin.  I'd heard rumors that Woodall Rodgers Freeway was depressed as low as it was because the TXDOT engineers thought it could be covered at some point in the future.  So I agreed to pursue it and see if The Dallas Plan could help move it forward.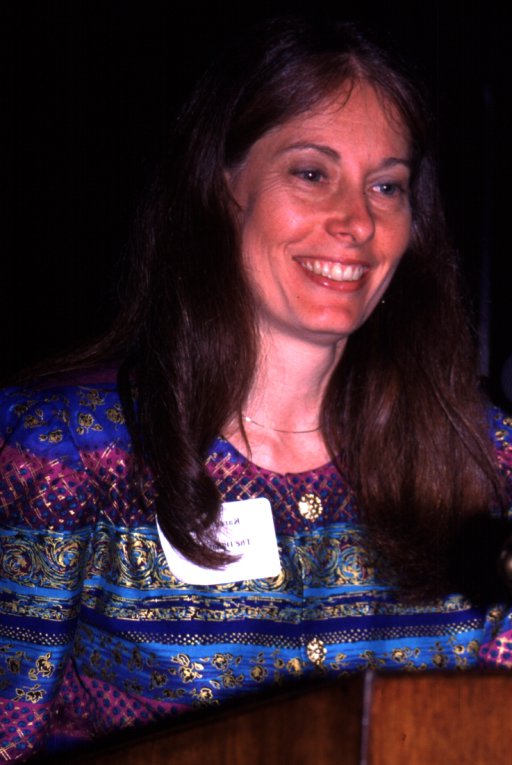 The author during the time of the Dallas Esplanade, source: Strategic Community Solutions LLC
I talked to two key people.  First was the City Manager.  Of course, his staff member had already discussed the idea with him.  He thought it was a reasonable idea if the adjacent property owners supported it.  But he also believed there were many higher priorities for the City's investment at that time.
Next I went to the Chair of The Dallas Plan's Board of Directors.  As it happened, he was also the President of a bank that had property on both sides of this part of Woodall Rodgers.  I thought he'd support the idea due to his involvement with The Dallas Plan and then we'd also have the buy-in of an important adjacent property owner.  But he did not support the idea.  He didn't think a park like this would encourage people to build and invest nearby, so he didn't think it strengthened the connection.  He also didn't see how it would help either of his bank's properties.  In fact, he thought it was more valuable to keep the drive-through bank they had in Uptown.
Without support from the City Manager and the Board Chair, we couldn't make this park a high-priority action item.  Everyone moved on to other implementation initiatives.
Fast forward to 2004.  The Real Estate Council (TREC) Foundation was focused on projects that included personal involvement by TREC members.  A group of them proposed a study of the real estate development potential of decking over Woodall Rodgers.  The TREC Foundation funded the initial study and some visionary members, including a different president of a different bank, decided to pursue it.  They were able to raise private funds for additional investigations.  They lobbied the Texas Legislature for transportation funds to support construction.  They created a separate non-profit to oversee it, the Woodall Rodgers Park Foundation.  They hired consultants, architects, engineers and designers who had been involved in similar projects (including New York City's Bryant Park).  As private support grew, so did the City's willingness to partner.  In the end, Klyde Warren Park was a $110M project which opened in 2012.  I'm sure many of you have been there and enjoyed its success as a public space and as an attraction to surrounding new development.

One view of Klyde Warren Park, source: www.klydewarrenpark.org
So what does this story tell us?
Agreement on vision doesn't always extend to specific implementation projects, and that's OK though disappointing.  I could imagine how a park over the freeway would change things.  But we had a lot of implementation projects underway and it was clear that advocacy for this would have taken a lot of time and effort – and resources for economic analysis that we didn't have.  This experience reminds me that it's important to stay focused on the big vision rather than being completely caught up in any particular project or tactic.
Even if the timing isn't right for your 'big idea' you may be planting the seeds for someone else to harvest later. TREC and some of its leaders had worked with The Dallas Plan on other initiatives, so they understood the idea of connections for the Center City.  I think the discussions in the '90's helped create community awareness and interest that later supported TREC's work.
External changes may make the stars align in your community.  In 1996, the revitalized Bryant Park was only four years old.  Its accomplishments and its unique approach were not very well known at that time.  That success story, plus a lot of other research on the economic value of parks, made the conversation in Dallas very different in 2004 than it was in 1996.
When it looks like things are coming together, find a champion, grab your partners and go for it!  Projects like this are almost never the result of one individual or organization.  A quick effort to build a broad coalition or partnership can make the most of a new opportunity.  Champions are essential too, and particularly valuable when they can lead and grow the coalitions.  The time, passion and reputation they contribute can't be underestimated.  Without John Zogg, Linda Owen and Jody Grant, Woodall Rodgers would be unchanged.
Today, Klyde Warren Park is often mentioned when someone describes the sort of vibrant, engaging place they'd like to see in a community.  It's expanding because the place and the activities and programming are so popular. An economic impact study by HR&A estimated the park has had $1.3 B in economic impact. I encourage you to come experience it.  And then consider these lessons about its path to success the next time one of your individual projects seems stalled.
What do you think? Here are some ways to engage further with this idea:
Karen S. Walz FAICP is the Principal of Strategic Community Solutions LLC.  She is the first Baby Boomer recognized by APA Texas as a "Texas Planning Legend".